Echelon Adds IBM Watson IoT for Weather Adaptive Street Lighting
Publish Date:
Wednesday, March 1, 2017 12:59 pm PST
News Organization:
LEDinside
Source URL:
Internet of Things pioneer Echelon Corporation is expanding its successful deployment of "white tunable" connected street lighting in White Bear Lake, Minnesota with weather adaptive capabilities powered by its collaboration with IBM Watson Internet of Things (IoT).

Echelon Corporation. (Echelon/ LEDinside)
Teaming with the municipal leaders of White Bear Lake and design firm Short Elliott Hendrickson Inc., the company is deploying its weather adaptive solution alongside the white tuning solution recently implemented at the city's Railroad Park.
Combining the two advanced adaptive control capabilities enables city managers to take advantage of smart controls that adjust park lighting based on real-time weather data as well as activity levels or time of day.
For example, lights can be pre-programmed to adapt automatically to real-time weather changes according to predefined preferences, such as a brighter level and a warmer color during a snow storm to minimize glare or a cooler, bluer color during thunder storms to improve visibility.
Research suggests that this bluer color, which blocks the release of sleep-inducing melatonin, is ideal for creating greater alertness under adverse weather conditions.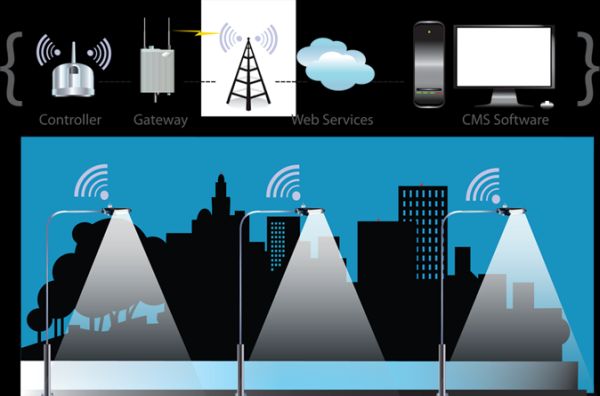 Echelon's Intelligent Networked Lighting. (Echelon/ LEDinside)
"We are extremely excited to expand this proof of concept with weather enabled cognitive capability through the use of the IBM Watson IoT platform," says Sohrab Modi, CTO and VP of Engineering for Echelon.
"Through this pragmatic expression of IoT and big data, the Echelon platform demonstrates just what a smart city can look like and how it can enrich the lives of its residents."
IBM Watson IoT is a cognitive system that learns from and infuses intelligence into the physical world. By combining IBM Watson IoT data with Echelon's IoT connected street lighting architecture, municipal leaders gain significant insights which the intelligent control platform uses to automatically respond in ways that improve public safety.
IBM Watson IoT capabilities closely align with Echelon's promise to municipalities – to enable them to more cost-effectively leverage innovations in technology that drive safety and sustainability initiatives.
Echelon's next-generation, connected LED lighting control technology enables municipalities to realize the full scope of LED street lighting benefits, from improved public safety and reduced energy consumption and reduced maintenance and costs, to better health, quality of life and environmental comfort.
It also serves as a platform that allows smart cities to integrate IoT applications as desired. Coming together to create this next-generation infrastructure is Echelon's new CLP 4000 connected lighting controller, SmartServer™ 2.2 converged universal gateway and LumInsight® central management system (CMS).
The Lumewave by Echelon weather adaptive service leverages data captured by IBM's The Weather Company's network of more than 200,000 Personal Weather Stations. This data is incorporated into IBM's Watson IoT platform and made available to the LumInsight CMS in making intelligent lighting decisions.
Using the latest secure web and IoT connectivity, Echelon's controls then adjust the lighting color temperature or brightness levels according to specific weather conditions, balancing the need for sustainability, while enhancing safety and comfort.
The combined solutions can set color and light level scenes based on a pre-programmed schedule, sensor inputs, weather data or manual adjustment.
Based on customer interest, Echelon expects to make this new solution available more broadly in 2017.
Multimedia Files:
Contacts
Press Information
Public Relations
Investor Relations
Annie Leschin
General Inquiries